By Sidney Starkman, Planning & Development Analyst, Calgary Parking Authority
When you ask people outside of the parking industry what they think about when they hear the words "surface parking lot", they may say: unwelcoming to pedestrians, only used at peak times or bland space. Though we can't boast about being home to the largest parking lot in the world, we do have an awful lot of surface parking space in in Calgary, Alberta. We at the Calgary Parking Authority (CPA) believe in building a better Calgary by working collaboratively to support the current and future parking needs of the communities we serve. Given this mandate and the ample space available, we set out to change the narrative about what surface parking lots can look like, how they function, and how they integrate into a neighbourhood: we launched a placemaking project to reshape a lot by engaging professionals to innovate the space.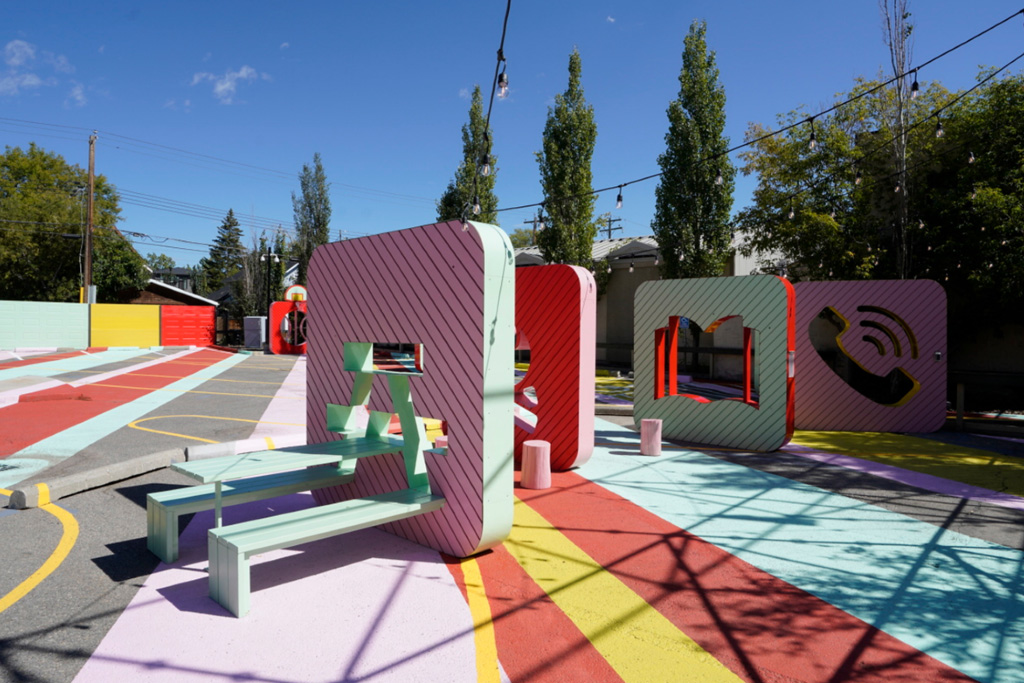 This project began with an open design competition managed by the Calgary Municipal Land Corporation (CMLC). The call for submissions asked for a creative intervention that re-imagined how surface parking lots can be designed; something that would delight and inspire, while continuing to operate successfully as a parking lot.
The goals of the project were to:
encourage critical thought and conversation on parking lots;
beautify a utilitarian space;
improve the quality of life for users and residents; and,
place make, turning a single-use space into somewhere people can have a positive, interactive, and emotional experience.
To select the perfect location, we analyzed all available surface parking options within the city. We wanted at a busy, mid-sized lot (30 stalls) which would guarantee visitors to the space, and one located in an active community where residents embrace unfamiliar projects. We were left with Lot 43, centrally located in Inglewood, Calgary's oldest neighbourhood.
We posted the call for submissions nationally, with the winning title being awarded to Public City Architecture Inc. (Public City) of Winnipeg, Manitoba. Public City created PARK PARK, a dynamic, multi-faceted installation to engage residents and visitors to the neighbourhood.
PARK PARK is a dual-use space (hence the name "PARK PARK"); part parking lot, part park. It features a vibrant mural on the asphalt surface, a scaffolding structure along the perimeter of the lot and freestanding, interactive icons that serve as visual clues to features of the lot, such as a basketball net, picnic table, bike pump and more.
Public City describes the project:
"PARK PARK is a room of parked curiosities designed to provoke a non-prescriptive rethink of the ubiquitous neighbourhood parking lot and other single use territories in our cities.  We are all too familiar with the barren landscape formed by surface parking lots; they exist all across the country. In contrast, PARK PARK is designed as a layer cake of uses. For the next two years, a colourful vibrant collision of activities will take on new meaning and provoke new conversations about the role of parking lots in neighbourhoods like Inglewood.
PARK PARK occupies the painted parking lot lines and brings them into vertical space. The design takes generic graphic signs that typically indicate what to do and where to do it in a public space and turns those into useable objects that are like narrow stage sets that make a series of small, inhabitable, useable places across the site. These stage-set interventions are designed to be used in a variety of ways so that spaces around them become small useable places within this park of parks. A picnic table sign folds out for meals, a campfire sign is gathered around, and a bicycle sign includes space for a bike pump.
PARK PARK is a place of curiosities made from parks. This is a parking park, a sitting park, a playing park, a gathering park, a riding park, a park kind of a park."
The most challenging element of this project came at the Development Permit stage: not only ensuring that The City of Calgary was comfortable with the unusual elements being added to the space, but proactively addressing potential neighbourhood concerns regarding a reduction in parking spaces (the design required a reduction of six stalls total.) Before proceeding with the stall reduction as proposed, we completed an occupancy study of the entire community and found ample parking available within two blocks, abating any potential impact. By sitting down to explain our research and rationale, as well as the intangible positive affects PARK PARK would infuse into the community, we were able to collaboratively move this project forward with full support from the local Business Improvement Area and Community Association.
Like many, COVID-19 limited our ability to complete this project within its original timelines. We faced uncertainty about inter-provincial travel, as the architects and their manufacturers were located in Winnipeg. Luckily, with a few small delays, much advice from health and safety professionals, and our incredibly flexible partners, the materials and team were able to assemble onsite and installation began in late August.
In addition to Lot 43 / PARK PARK now operating dually as a parking facility and a recreation space, it is available for rent through the CPA's Event Rentals program. Through Event Rentals, companies, individuals and other groups can rent surface lot or parkade space for alternative uses such as birthdays, corporate parties, etc. The Event Rentals program has been successful in CPA facilities across Calgary, hosting a variety of events like Food Truck rallies, movie nights, stampede events and ultimately, has diversified the ways in which we can optimize our finite assets.
Since unveiling PARK PARK to the community, it has been rented for a community Night Market and accessible to the public for PARK(ing) Day. Not to mention the countless posts, stories and photos we've seen shared and reshared on social media.
PARK PARK is a pilot project which will be in place for the next two years. During this period, it will be open to both parking and pedestrian usage unless it's rented for a private event. After that, we'll review its successes and community feedback to determine if there is opportunity for additional placemaking projects in Lot 43 and other CPA parking facilities across Calgary.
It's not every day that you see a bright pink, turquoise and red parking lot out in the world. However, for the next few years if you drive through Calgary's Inglewood neighbourhood you can pop by and see a bright coloured parking lot every day.