QUALIFICATIONS
Parking staff members are often times the face of your organization, acting as ambassadors to your business and leaving the first impression on customers.  This award is intended to acknowledge excellence demonstrated on a day to day basis by parking staff.
---
NOMINATION CRITERIA
Eligibility                               
Parking Staff Member of the Year nominations must include all of the following:
A two-page statement (approximately 1,000 words) discussing the individual and why he/she is deserving of recognition. Include a description of the individual's customer service skills demonstrated that re above-and-beyond his/her job description.
A one-page letter of recommendation from the appropriate supervisor.
A one-page letter of recommendation from a customer.
Additional supporting documentation, if desired (not to exceed three pages).
Photo
Head/shoulders professional photo in JPG or Vector format: a minimum of 300 dpi high resolution (i.e. original, unedited JPG at original size – at least 2″ x 2″ and 1 MB).
Video
If you have a video that you would like to submit with your nomination, please include the URL in your nomination submittal.
Eligibility:  Open to CPA members from all sectors. 
Entry Fee:  There is no entry fee.
SUBMISSION INSTRUCTIONS
This form cannot be saved. All supporting documentation must be uploaded with this submission. Please read the Nomination Criteria and provide all accompanying documentation in pdf format.
2022 Parking Staff Member of the Year Award
---
2018 Recipient
Scott Caldwell, 
City of Ottawa
Scott has been working for the City of Ottawa for over 17 years.  More than half of his time with the City has been spent with Transitway and Parking Services. Scott has proven to be a vital team member for the City of Ottawa, and an astounding leader in the Parking Services unit. He is fostering a team-oriented environment that focuses on building up members of the Parking Services team.
After a 2016 Re-Organization left the Parking Services Team without many of its key members, including its Branch Manager, Scott accepted the challenge of becoming the Area Manager of a new branch, Transitway and Parking Services. Since then he has completed an internal stabilization process and has found many efficiencies along the way.
His colleagues describe him as a forward thinker, mindful and practical, and Scott always displays respect, appreciation, and understanding while sitting in a manager's role; a very admirable characteristic.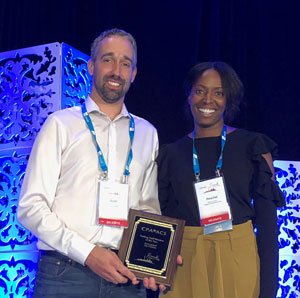 2017 Recipient
Prabjhot Sarao
IMPARK at EIA