Maintenance of Vehicular Traffic Membranes on Parking Structures
By Bob Matich
Parking structures play an important role in society and are often the first touchpoint one has with a building so, ensuring customers have a favorable experience while interacting with a parking garage becomes important in protecting revenue generated by these assets. It follows that parking structures need to be effectively maintained. By the nature of where parking garages are located and how they are used, they are subjected to the effects of harsh environmental exposure, road chemicals and daily use. One of the most critical challenges facing parking structures today is moisture penetration. Unprotected structures suffer from water-induced damage, including deterioration and corrosion caused by alkalis, salts, and acids.
The key to preventative success against detriments outlined above is utilizing a system of products designed to work together. Liquid-applied high-performance traffic membranes are a major part of such systems as they offer long-lasting protection against the most damaging conditions. While these traffic coatings are exceptionally durable to traffic, there are circumstances which can exceed the limits of even the highest performance system. This article will outline an overview of situations that should be limited or avoided, as well as periodic maintenance procedures to follow. General topics include snow removal, high heat exposure, cleanup, repair for damaged areas, repair of high wear and recoating for aesthetic purposes.
Prevention
Traffic membranes can tolerate a limited amount of extreme heat exposure. Exceeding these heat tolerances may damage or decrease the life of the system. High heat exposure may be caused by a variety of occurrences on a parking structure, including friction caused by spinning tires, non-extinguished cigarettes, or aggressive cleaning equipment. To limit exposure to high heat, it is recommended that signage be posted to limit speed, reminders to not spin tires, ensuring cigarette disposal receptacles are in visible locations and reminders indicating that metal chains on vehicle wheels during snow season should be prohibited.
Maintenance
It is recommended that physical inspections occur a minimum of twice a year, preferably in the spring and fall. Inspections allow potential issues to be identified and corrected before damage occurs. When performing an annual physical inspection, several points should be noted if observed:
• Cracks in the concrete or coating
• Blisters
• Delamination
• Leaks, especially in details including:
• Joint sealant in wall transitions
• Flashing at plaza
• Expansion joint seals
• Clogged or damaged drains
• Structure movement
• Excessive wear of the traffic membrane
• Holes, gouges, or other physical damage in the traffic membrane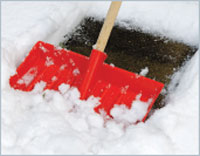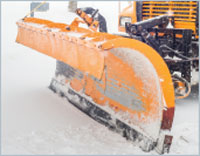 Snow & Ice Removal: Snow and/or ice present a combination of potential problems for parking structures. Heavy accumulations of snow and ice can increase weight loads, which may exceed the limits of the original structure design. Cracking and other structural damage to the deck could result from this excess weight. When these weather conditions occur, snow removal is necessary. Metal blades and shovels can gouge the traffic membrane. Snow removal procedures should be reviewed with the personnel performing the task, and the procedures should be verified beforehand so no damage occurs to the membrane.
The use of metal blades should be avoided, and plows and buckets should be fitted with rubber blades. Plows and buckets should also be fitted with plastic "runners or "shoes" to distribute the weight of the snow. Snow blowers and runner blades are practical for most small deck however, care should be taken to avoid cutting or damaging the traffic membrane with metal shovels or scraper blades commonly used on snow blowers. Instead, the use of a durable plastic shovel should be considered.
Traffic membranes should be resistant to standard de-icing salts (calcium chloride and sodium chloride). However, it will be good practice to rinse the deck with clean water at the end of each winter season to remove residual salts.
Standing Water Removal: Parking structures should have proper water drainage systems in place. If an area of standing water is noticed that remains approximately 48 hours after an event such as a rainstorm, the water should be removed by squeegee or other means to prevent long term degradation of the traffic membrane.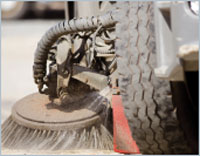 Cleaning: Surface contaminants such as oil, gasoline and other engine fluids should be removed from the surface once identified. Effective cleaning procedures are dependent upon the type of contaminant. Common carbon and dirt deposits can be cleaned with most all-purpose household cleaners. These cleaners may be used in conjunction with moderate pressure spray or power scrubbers. In smaller areas, agitation with a stiff broom may also be effective. Regardless of the technique employed, thorough rinsing to remove all surfactants from the detergent is important to avoid increased slipperiness of the deck. For other contaminants such as oil, gasoline, and other engine fluids, use an appropriate degreasing detergent, making sure to rinse the deck thoroughly to remove any residual detergent residue. As with all recommended procedures, test a small area first before applying to larger areas to confirm that the cleaning procedure does not damage the traffic membrane.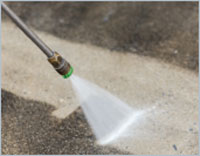 Mechanical Cleaning Equipment: A ride-on scrubber / sweeper is often an acceptable means of cleaning large areas. There are certain precautions that need to be followed when using this type of equipment. Standard brushes, containing medium bristle polypropylene or polyester brushes are recommended. The use of abrasive impregnated or metal bristles can cause damage to traffic membrane systems. The scrubber brush pressure should be set at the minimum setting for the machine. For deeper cleaning in areas, it is best to decrease the speed of the machine rather than increase brush pressure to ensure the machine will not damage the traffic membrane. These recommendations are based on the review of the operating manual of the scrubber-sweeper and cannot account for variations between machines or any maintenance issues with the equipment itself. Therefore, it is always best to perform a test cleaning on a small area of the deck to confirm the machine is cleaning adequately without affecting the traffic coating.
Repairing Traffic Membrane Systems: The need to repair mechanical damage to traffic membrane systems often depends on the extent of the damage observed. Dropping or dragging of heavy or sharp objects can often damage traffic membrane systems and the concrete surfaces below. Repair of traffic membrane systems begins with ensuring that the substrate is sound, clean, and dry, and then is followed by the application of an effective traffic membrane system to the affected area according to written recoat instructions provided by the manufacturer.
Having a proper preventative and maintenance plan in place that factors in the considerations outlined in this article can go a long way in extending the service life of a traffic membrane system – thereby ensuring your revenue generating parking structure encounters little to no service interruption.
About the author: Bob Matich is a Sales Manager with Master Builders Solutions, a leading provider of protective solutions for parking structures. He can be reached at bob.matich@mbcc-group.com