If College and Healthcare Should be Free, Why Not Transportation?
First, A Mobility Wallet is Needed, Then Some Drive.

By Gabe Klein, Partner at Cityfi
Mobility What?
For the past 5 years, I have tried to get anyone that would listen, particularly in the mobility and real estate space to think about the importance of a "mobility wallet."  Back in pre-pandemic 2017, I was working in West Palm Beach on the Downtown Mobility Plan with the city's Mayor, Assistant City Manager, Head of Transportation, and a slew of great consultants. As we were meeting with the planning department, local developers, the Downtown Development Authority, and others, it became clear that there was a need to productize and simplify the mobility offerings in the city from the County's transit services (Palm Trans) to the cities Circulator Trolley, the bikeshare system and so forth. The city's first planned microunit development was also being planned (it did not come to fruition), which spurred the conversation, "Why are we going to build parking spaces that are the same size as the units themselves?" We then realized that changing zoning was (and is) hard but writing new zoning specifically for microunits was very practical and could require an alternative to building parking. But what would that be?
Like a game of telephone, I now realize that there are many variations of what a "mobility wallet" means, and what it can do for our communities. In the original context, we envisioned creating an environment where instead of a developer funding many millions of dollars in new parking, we would entice (carrots) and require them in some cases (sticks) to alternatively fund a mobility wallet for every household in their apartment building, with $150-$200+ of free mobility services including unlimited transit, bikeshare and some number of rides on Brightline rail, a ride hail provider and carshare. In early conversations with providers, they said they would be willing to sell in bulk and/or at a discount to a developer, an employer, a city, or an intermediary. Furthermore, developers we talked to said that: if they could save the upfront capital expense of building parking and take a percentage of the interest on that saved capital to fund ongoing free mobility for residents, they would do it as it would give them a big competitive advantage. However, the two barriers they would face would be: 1) Would the financiers allow it? 2) What if a resident really wanted or needed parking?
Why Has it Not Happened Before Now?
Up until the COVID pandemic began, cities thought their municipal lots were highly utilized. In the case of West Palm Beach, lots were utilized to the tune of about 83% in 2018 during the day, but that number fell to the teens in the evenings. Therefore, if the city was willing to rent parking spaces to private developers for resident use at a rate of $150-$200, then they could. We also found that the banks were not going to stop lending to developers in West Palm Beach if the city changed their requirements or passed new zoning laws. In a nutshell, the entire program was not only feasible, it was also potentially a huge cost savings for all parties and in my mind, there were at least three new businesses to be had.
In our ensuing technical research for a technology provider, there was a gap and for a minute, I thought about starting a company to try to fill it. Instead (as an entrepreneurial victim of bad timing prior), I began to evangelize the concept and talk about mobility wallets to both policymakers and technology companies wherever I went. Years later, it feels like the time is finally right. 
Why? Because at the local and now federal level with fresh new leadership, there has been a strong recognition that transportation access is key to upward economic mobility. Cities from LA and Pittsburgh to Washington D.C. and Miami are thinking of strategies to improve how we clean the air, make our streets safer, and give everyone access to quality jobs, good schools, and fun public spaces.  With regard to enhancing transportation access, cities are offering free transit post-pandemic to get riders back, and some like Kansas City are free for all, all the time. Washington D.C. is seriously considering $100 of free Metro service for EVERY resident of the city (Yes!). Pittsburgh is piloting "Universal Basic Mobility" on top of the Move PGH program funded by philanthropy which I and our team at Cityfi were proud to contribute to along with NUMO, Spin and others. If you can't afford to live on top of a transit stop, you should not be precluded from access, so we need all the first and last mile options that programs like Move PGH provide to extend the value of transit for the system to work for all. Free transit is a start but access to private and public transit options are necessary to give true mobility access in America, and that means a car too sometimes in 2021.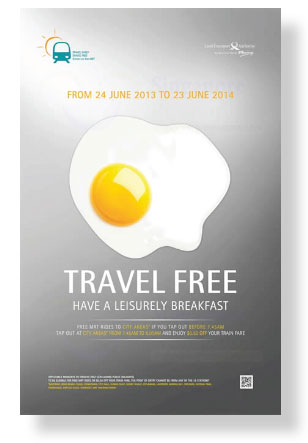 Free transit in Singapore, certain days and times with behavioural nudges (Credit: Campaign Asia)
Without a centralized system that includes trip surfacing, planning, multimodal booking, and APIs to other systems… from human resources and building management to mobility providers, it is hard to scale a parking alternatives program for developers, or a subsidized or universal basic shared mobility program for an employer or an entire neighborhood or city. The key to providing any of this at real scale is a mobility wallet that allows automatic weekly or monthly deposits, discounts for multimodal trips, rewards programs for positive individual and societal impacts, and both individual and organizational refilling of program funds or ad-hoc debits.
Would a Person Want This? Use an App?
In an ideal world, the individual chooses what they spend the funding on. However, certain modes can be incentivized either through unlimited access or bonus trips awarded to users. This should link directly to climate benefits (limiting greenhouse gas emissions) and health for the individual, which in-turn can lower healthcare costs for participants and their employers. The individual also can save $ that can be put into areas like housing, savings, and food, and we can measure their happiness monthly, daily, or after every trip. Moreover, providers that score highest should also have more opportunities to grow with the program and be subsidized to serve more of the community more of the time.
The age-old question arises… would someone use an app that aggregated the options + a mobility wallet?  So let me state this simply. If I have $2400-$3600 being dropped into an application on my phone, whether from my city, my building owners, my employer (or ideally a combination), you can bet I am going to use it. I am going to open that app, and I am going to try the options that are being given to me. We have many of the individual pieces, but they need to be put together. We can also potentially API out to other consumer facing applications and let people choose their interface of choice.
Is There a Business Here Also?
As per the above, yes, and this is another reason why this is the ideal time.From a business perspective, there are many aggregated mobility apps out there, but there needs to be a really good differentiator over the individual native applications or frankly, Google Maps, for users to make a switch. We also want lots of open competition vs. walled gardens and to facilitate growth for the good actors and the best quality services. We know that the concept of Mobility-as-a- Service has had serious challenges of its own, and we also know that historically in the U.S., mobility services have a hard time making profit whether privately or publicly run. Some of this is due to poor land use planning and the corresponding American reliance on private automobiles, and some of it is due to high capital costs and/or heavy marketplace investments. This won't change until we get a critical mass of people out of cars and onto transit and bikes, scooters and their own two feet.
Incentives, nudges and other behavioral economics tools can be funded by the private sector to reward people with free groceries, services including mobility for example (and even cash). The world of advertising and promotion is changing and companies like Miles and others are showing that direct rewards can be lucrative and positively addictive for good behaviors, just as alternatively the Washington D.C. bag tax dramatically cut usage overnight and has now been adopted in hundreds of jurisdictions around the world. We need carrots, and sticks in transportation, waste, and many other areas that have outsized societal outcomes.
Let's Do This Already:
Now is the time to truly reduce the barriers to multimodal access; to stop incentivizing, funding, and building parking and single-occupancy subsidies that stimulate unnecessary driving; and to provide access and incentivize the right societal and individual outcomes. An open, mobility wallet system + the connectivity to other government, work, and housing – administrative and back-office HR systems is what we need. This formula mixed with some drive from the public and private sector to power change will result in a win-win-win for people, planet, and profit.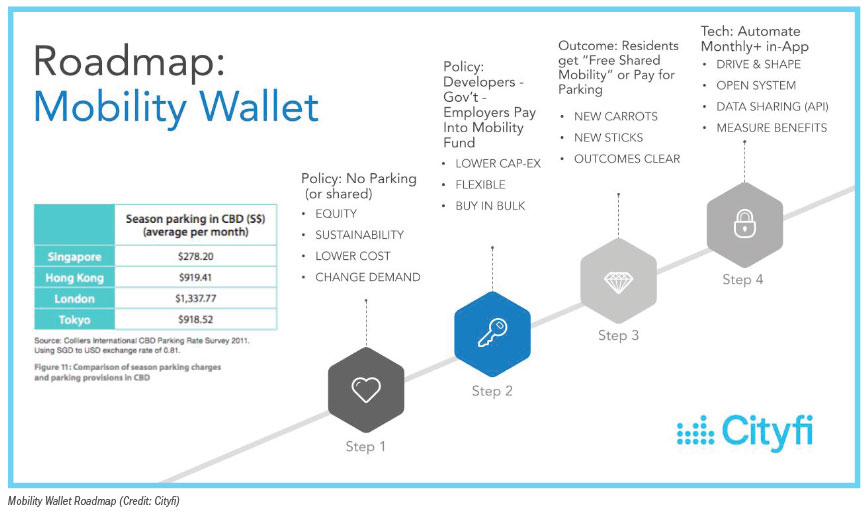 About the author:
Gabe Klein
Partner, Washington DC
https://www.cityfi.co/team/gabe-klein
Cityfi was founded in 2016 on the belief that great business practices and prudent policymaking matched with the appropriate technology can deliver first-rate results and positive outcomes. 
Technology is a means, not an end.
A long-term, triple bottom line strategy – people, planet, profit – leads to higher returns and a more sustainable financial future.