By Baptiste Corno
Dynamic pricing is clearly the solution nowadays to boost your parking facilities revenue, enhance customer experiences, increase the attractiveness of a city center, lead urban flow and provide drivers with discounted parking spaces. Drivers, parking managers or city managers, this article is made for you.
Our world and our society, are in constant evolution. We will witness considerable changes in the next decade. Some major events have already changed our world this year and we are likely to see more. This decade is the start of a new cycle. We must individually and collectively reconsider our habits and consumptions modes to sustain our future.
Mobility must be one of the top priorities to reconsider. It must evolve toward more autonomy, shared transportation, environmentally friendly and connected usage. Car Parks must also evolve in the same direction and all of us must adopt a very positive approach if we want to succeed.
The development of dynamic pricing solutions in parking facilities is one of the first areas to change because it will help everybody in the community, especially consumers and their budgets. By helping a wider range of the population, Dynamic Pricing can be used as a public policy that benefits a large number of people while providing optimization for private entities. Dynamic Pricing can be the solution of numerous challenges. Xavier Zakoian, CEO & Founder of Kowee, leader in Dynamic Pricing solution for the parking industry stated that: "The objective to achieve is not necessarily revenue optimization. It can be, but it can be customer satisfaction, customer targeting, occupancy maximization and so on". Dynamic Pricing techniques are an answer to the actual issue regarding urban traffic flow in Smart Cities.
Infotraffic presented an example of Dynamic Pricing strategy at the Virtual Canadian Parking Association Conference & Trade Show, on November 18th 2020. The case study is about off-street parking facilities in the city of Nimes (France). It highlighted challenges and benefits for customers, managers and cities.
For Customers
Dynamic Pricing provides the best possible tool for a driver in his decision making process when choosing a parking solution based on price and location. The system is built upon those two last elements, that are key success factors in a pricing strategy by bringing more personalization and a wider range of products. As Hans Puvogel, C.O.O of Parkopedia, explained during the conference "Certain consumers even prefer to pay premium prices because that reduces their parking anxiety or it ensures that they will have availability at a particular preselected location. But there are also other consumers that prefer to get the cheaper deal and don't mind walking extra blocks to their destination." Drivers look for economic benefits (cheaper parking space) or convenience even if it is more expensive.
Dynamic pricing allows parking managers to customize their offer by adapting prices in real time. It is a very flexible and attractive solution. The goal is to provide more and better opportunities to the drivers. Additionally when that solution is implemented, we often see an increase of car usage. Customization and adaptation are keys to create long term value customers. Maxime Hébert, Head of Business Intelligence & Revenue management at Indigo outlined that vision: "Personalization is going to be key for every customer to enhance the parking experience and thus create long term value clients. Online, they will be able to find better promotions or discounts, and from there we will be able to capture additional data to personalize their experience even more. More than what we would be able to capture for instance on site."
Nonetheless drivers must know those parking cost beforehand. Either by searching online or through dynamic signage in or within the vicinity of the parking facility. The full potential of Infotraffic solutions goes towards that vision. We bring understandable and transparent dynamic rating boards to allow a quick and efficient customer decision. Xavier Louvet, General Secretary of Interparking France, managers of the parking facilities of Nimes, stated that "Informal feedback from our customers are good. They found our new pricing policy fairer. It is fairer for a driver to pay less when there is availability, and it is also fairer to pay more when the parking is almost full. Since the implementation of that Dynamic Pricing solution we haven't heard any complaint".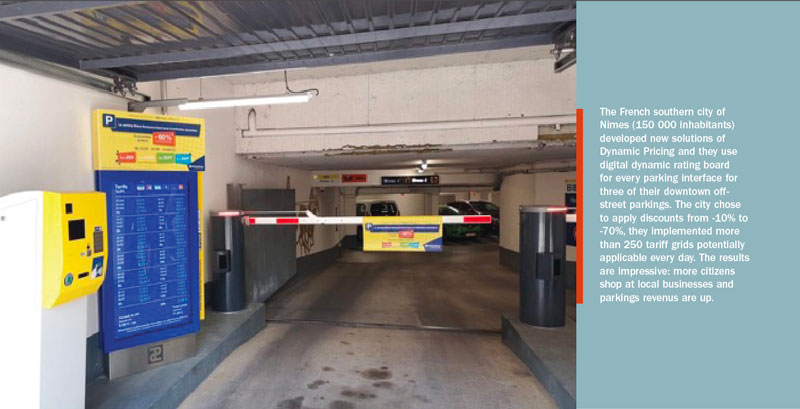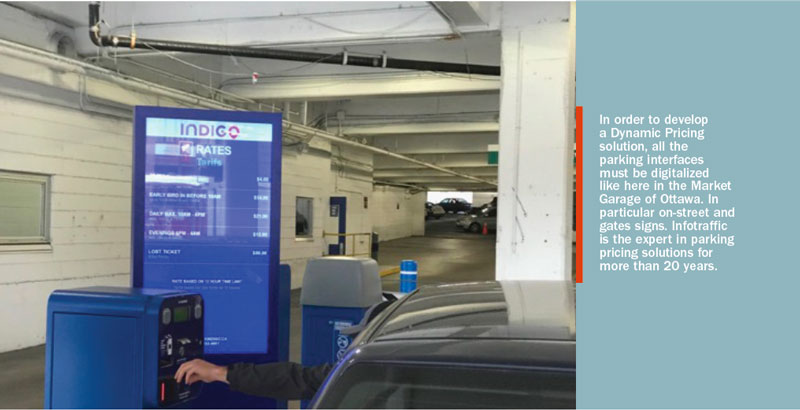 For Parking Managers
Nowadays mobility is reduced to its essential use. The issue for managers is to optimize occupancy, or control the erosion of it, and therefore the erosion of revenues. How can managers do better with reduced demand? Economic performance of a Dynamic Pricing solution is the first profit for managers.
In the case study of the city of Nimes, a system implemented by Interparking, discounts often go from -10% to -70%. Yet no decline in turnover has occurred since the implementation, except during lockdowns. On the contrary, for numerous managers turnover rose up by 15% to 20% since the installation of a dynamic pricing strategy in their off-street parking facilities. This pricing technique can leverage your revenue during a stable period and limit its decrease in time of crisis. "And all this without going through traditional and generalized increase of the rates. We would risk a misunderstanding from our customers" emphasize Sébastien Fraisse, France Managing Director Indigo.
During that Covid crisis, new segments of customers have been identified, at the expense of traditional segments. That new generation of drivers and parkers is different than previous generations in terms of expected needs. More precisely in terms of economic needs. The rise of low-cost parking solutions, permitted by Dynamic Pricing, is one of the main answers for these newcomers. More broadly Dynamic Pricing enables to address precisely a segment of customers and/or a period in the day. The pricing strategy developed for various segments of customers, aims to provide a greater personalized answer to the newcomers on the market.
For Towns and Cities Managers
Finally Dynamic Pricing will enable cities to be "attractive regarding its customer base that tended too often to go peri-urban mall and shopping centers, leaving downtown and city centers" outlined Claude De Girardi, Deputy Mayor in charge of mobility, transports and parking at the city of Nimes. Parking rates in city centers must no longer be an obstacle to local businesses. Dynamic pricing will allow incentive pricing policy targeted to specific customers who deserted downtowns long time ago because of expensive parking costs.
The goal of the city of Nimes is to enhance the attractiveness of its downtown for the benefits of local shops and citizens. Before the implementation of the new system, city managers were not allowed to customize their pricing strategy for specific customers. A price incentive beneficial for some customers had to be chosen at the expense of others.
Thanks to Dynamic Pricing solutions, cities can easily decide to target a group of customers or not, without neglecting others. Cities can choose accurate rating strategies, at a defined time period for a defined type of customer. It is a new and innovative vision summed up by Wilfried Thierry, North America Managing Director Indigo :" Dynamic pricing is the opportunity to implement the right tariff, at the right time and for the right customer".
Years after its emergence in the airline or hospitality industry, Dynamic Pricing is knocking at the door of our industry. Our industry must reinvent itself, rethink its business model and adapt to the new customers demands and expectations. Parks solutions must be more flexible, consistent, and transparent for customers that now want personalized services. Parking must adapt to their specific needs, and not only to the needs of the majority.