By Reachel Knight, Calgary Parking Authority
In late May, the Platform Innovation Centre & Parkade opened its gates to Calgarians with fanfare, community activities, and more… JUST KIDDING. With Calgary's third COVID-19 lockdown underway, the Calgary Parking Authority's (CPA's) grand opening for its first purpose-built parkade in decades wasn't quite what we'd envisioned when planning began years ago. Luckily for us, forward-thinking and adaptability are the foundation that Platform Parkade is built on.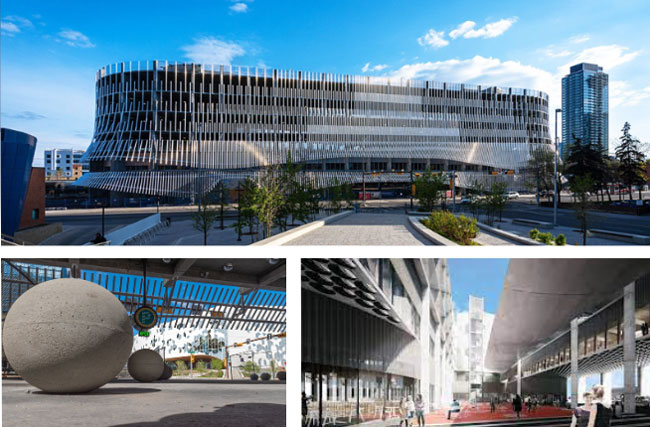 Calgary's East Village has always been a magnetic neighbourhood, a gathering place that draws visitors to its vibrancy, invention, and beauty (more on that later). Platform Parkade is part of the revitalized East Village urban mosaic. The need for the new parkade location was identified in The City of Calgary's East Village Area Redevelopment Plan: the creation of Platform Parkade allowed key East Village projects, including the Studio Bell, home of the National Music Centre and Central Library, to be created without standalone parking space. Platform Parkade was designed, developed, and built to address the evolving parking and transportation needs of the neighbourhood.
Throughout the planning process and 2.5 years of complex construction, we worked to create a blueprint for the future conversion of this unique space. Certain design elements will allow the space to be adapted into commercial or residential uses in the future when the needs of the community change.
For example:
Increased floor-to-ceiling heights to accommodate mechanical, electrical and HVAC requirements for future uses (office and/or residential)
Slightly sloped floors with no ramp system mean that if/when this building is converted to an alternate use only a minor topper will have to be installed to level out the space. Given that there is no ramp system, no ramps will have to be removed when converting from one use to another.

   

An above-grade design and central atrium space allows for natural light to penetrate through the building.
In its current form, the facility offers more than 500 vehicle parking stalls, six electric vehicle chargers (with the capacity to scale up to meet demand) and nearly 100 bicycle spots (60 reserved and 39 free) for Calgary's active cycling community. This multifaceted space complements public transportation and walkability quintessential to the area.
Platform Parkade also offers the community a publicly accessible sport court on its main level and outdoor event rental space with seventh-floor panoramic views for corporate events, birthdays and more.
Integrated within the first two floors of this facility, the Platform Innovation Centre personifies the uniqueness of this project as a hub dedicated to a rapidly growing tech community. In this 50,000 square-foot space, innovators across Alberta will have access to everything they need to achieve success, including a community of like-minded entrepreneurs, investors, and startups. Platform Innovation Centre will open this fall, bringing together more than 50 tech and innovation partners under one roof to support entrepreneurs and their startups.
At its heart, this project is about creating real value for Calgarians as an adaptable, innovation-focused, public facility. It offered partners an opportunity to reimagine how utilitarian structures could be better designed as dynamic, multi-use buildings; to integrate into a community and provide a more active public use. And we plan to reimagine our "official" grand opening this fall with the fanfare and community engagement in support of our partners at Platform Calgary.