Eyad Abu Rish | The Tom Arnold Scholarship in Parking Industry Advancement at York University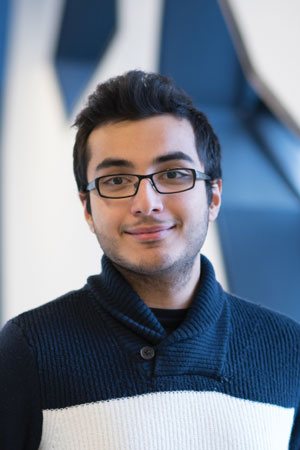 Engineering can impact the face of the parking industry and reshape our parking experience, especially with autonomous vehicles becoming a norm in the close future. With this technology rising, we can create more parking spaces and automate the process.
There are various ways engineering is changing the industry, as quoted by York university's transportation-engineering professor Kevin Gingerich: "Many jurisdictions are beginning to question the need for minimum parking requirements as dense cities become increasingly multimodal and shift away from the traditional automotive emphasis. Autonomous vehicles and transportation network companies (TNC) such as Lyft and Uber will lead to further changes in this demand and require transportation professionals to rethink our current parking policies and solutions". I will be focusing on autonomous vehicles in this article as the latter is self-explanatory.
Imagine you are arriving late to the mall just before the holidays as you are picking up a gift, 20 mins before closing time. Soon, you will be able to instruct your car to find a parking space and get off shopping. Meanwhile, your car would communicate with the parking structure to find an empty parking spot; in response, your car will park in the spot and notify you of the location code.
Here in Toronto, parking can be very limited. Some studies, such as the ones done at the University of Toronto, have proposed a grid like system for parking where cars would park in a congested-matrix form. This means that cars can be placed in front and beside each other without any spaces. This would be limited to only autonomous vehicles, which would be able to communicate with one another and thus make room for each other to get in and out of the parking spot seamlessly.
Paying for parking can be annoying, whether you have a pass or must find a payment machine where a line of people is waiting to pay. With structure-to-vehicles communication, you would be able to load your parking pass identification number, which would be sent to the gate and processed automatically to check if your parking pass is valid and open the gate. Similarly, if you are driving into a parking lot where you would have to pay, you would receive a notification on your car screen with payment options. These payment options could be chosen depending on the driver's preference.
Parking enforcement is commonly needed for parking lots. Using an automated system with a structure-to-vehicle communication, the parking structure could check which vehicles have already paid or have parking passes by direct communication with the vehicles. However, human input will still be needed for nonautonomous vehicles.
Other ideas in engineering that have been proposed include having a multilevel parking elevator that will be able to hold more vehicles in a smaller place, with fewer materials needed than our traditional multistory concrete parking lot structures.
"Technology adoption can also generate new problems that we must address." – Kevin Gingerich
The implementation of these ideas will not only impact the end users' (the drivers') experience, but it will impact the job field in the parking industry. Jobs such as parking-enforcement officers and valet will see a great reduction, while other jobs related to technology (e.g. system technicians) will see a growth in numbers.
---
Eyad Abu Rish – A graduating 4th year Civil Engineering student, starting master's in applied science in Civil Engineering at York University in September 2020. "I am very interested in integrating Artificial Intelligence in the Civil Engineering industry to optimize Engineering designs and maximize the safety of our designs. When I am not spending my time studying, running events, or researching, I spend my time playing tennis."