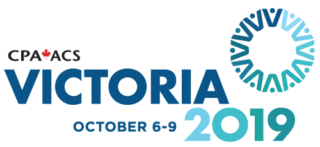 ---
Session presentations and speakers
---
SUNDAY EVENING
Welcome Reception and Keynote 
FLORIAN LENNERT

Intelligent City: Future Mobility
Smart mobility innovations are disrupting existing urban transport and decarbonization is driving the electrification of urban fleets. Will the emerging "electric city" optimize energy, space, and mobility by digitally integrating ubiquitous renewable energy systems, smart grids, intelligent public transport infrastructure and shared electric vehicle fleets?  Or will urban development and transportation remain wedded to fossil fuels, private ownership, conventional motorization, inefficient land use and the resulting economic, social and ecological dysfunctionality of our urban spaces?
Rapid innovation in big data, machine learning, and distributed energy systems may enable new zero-emission, on-demand and automated mobility services but may also reinforce unsustainable and socially exclusive transportation and urban development pathways. The dynamic interaction between passenger and freight mobility, particularly regarding distributed production and e-commerce, provide an additional challenge for future mobility systems. Further out, drones and urban air mobility have significant potential for transformative disruption by integrating vertical with horizontal transport and separating mobility from road-based infrastructure. Through case studies and examples from leading intelligent cities, with specific reference to the impact on the parking industry, future parking services and parking structures, we will explore key levers of integrated urban mobility and energy transformation solutions.
Morning
General Session
Lisa Helps, Mayor of Victoria & Andrea Boardman, Island Health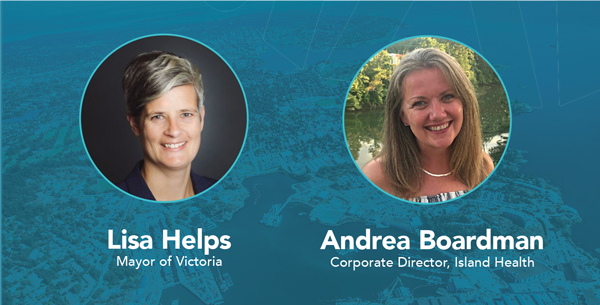 Victoria: Sustainable, Livable, Thriving
With an over-subscribed parking program at hospitals that are at chronic overcapacity, new and innovative options are required to transport staff to and from work from all regions of the city and surrounding municipalities. This presentation will explore how the municipal and health sectors are working together to move toward a shared vision of a sustainable transportation system within a livable and thriving city.
Lisa Helps, Victoria's Mayor since 2014, works hard at City Hall and in the community to ensure that the city is prosperous, affordable, sustainable, and ready for the future. Taking a long-term, big-picture perspective, she looks both around the city and around the world for innovative solutions to the pressing challenges we are all facing.  Lisa and her city council have taken bold steps to look beyond the needs of today to create a future vision that includes a network of separated bike lanes, improved transit options and reduced street parking for vehicles.
Andrea Boardman is the Corporate Director of Logistics & Operations for Island Health which includes, but is not limited to the parking operations at various hospital campuses that comprise Island Health on Vancouver Island. With a Nursing background and Master of Business Administration she is in a unique position to look at the supply and demand of hospital parking through the lens of patients, families and staff.
---
Afternoon
Educational Breakout Sessions  
Suggested for: Municipal | Mobility Sectors
Smart City Building Blocks: Changing Physical Infrastructure and Adopting New Technology
Dave Harkness, City of Surrey
Nathan Berry, Passport
The mobility ecosystem is changing rapidly, providing challenges and opportunities for cities looking to adopt technology and build infrastructure on the path to becoming smart cities. The central question is how to enable people to move around a city in an effective, efficient way, that not only works today, but is also able to adapt to future changes. There are two key components to set cities up for success: changing the physical infrastructure and leveraging new, connected technologies.  Presenters will speak about the concept of Complete Streets, the importance of digitally coding the curb and the need for a mobility platform to coordinate various forms of mobility (cars, electric scooters, ride-hailing services, autonomous vehicles, etc.) so vehicles can safely and optimally interact with city infrastructure, such as the curbside.
---
Suggested for: All Sectors | Customer Service
Self Service: The New Frontier in Customer Support
Lisi Monro, City of Edmonton
Chelsea Webster, Calgary Parking Authority
Customers are demanding a revolution in customer service provision. They want to use the platforms they use every day – like texting, live chat, video instructions & Google search results – to get the help and answers they need from the companies they choose to do business with. Regardless of the platform, we also know that one poor customer service experience can drive customers (especially parking customers) to an organization's direct competitors. To navigate these evolving expectations, organizations across every industry are changing the way they provide customer service – moving from expensive, inaccessible, and inefficient practices to user-friendly intuitive and live technologies. This workshop will explore this new frontier of customer service, and how your organization may prepare for and deliver a better customer experience. If you're ready to take your personal experience and apply the lessons you didn't even know you've already learned to improve customer service if your parking operation, this session is one you won't want to miss.
---
Suggested for: Airports | Rideshare
Using Parking to take on Ride Sharing Services
Brett Bain, Edmonton Airports
Haroom Malik, Chauntry
Parking is a vitally important revenue source for airports—for many it's second only to gate fees in importance, and there are millions of dollars at stake with Uber and Lyft cutting into revenues. Edmonton International Airport is taking on the TNC's by making it more attractive for travelers to drive to the airport and park there than to get dropped off. Learn about EIA's creative marketing program (that even includes an airport Tinder account that's the talk of the industry). The cornerstone of the program is the airport's parking pre-booking platform through which travelers can reserve discounted parking and receive discounts and deals on things like vehicle detailing while the customer is traveling, and discounts on products and services at the airport. Through this program Edmonton has created the most successful parking pre-booking program of any North American airport, though it is far from the continent's (or Canada's) largest airport. It's a terrific program that can serve as a model for other airports throughout North America. In this presentation, learn about financial challenges posed to airports by TNCs and how parking can be used to fight back. Strategies for making it more attractive to travelers to drive to the airport and use airport parking facilities, rather than getting dropped off will be discussed, and will include an overview of parking pre-booking technology and how airports can use the technology to generate parking revenues by making the parking experience more convenient and through a reservations-based loyalty program strategy. They will also discuss creative marketing strategies, including the airport's "tinder" strategy.
---
Suggested for: Campus | Hospital | Major Employers
Parking Management Challenges at Campuses and Major Employers in Non-downtown Locations
Dan Casey & Shaun Heffernan, Urban Systems Ltd.
Campus environments on the fringe of urban areas experience their own, unique parking challenges that require tailored management solutions. These more outlying areas typically do not exhibit the same level of walkability or transit service as in an urban location, resulting in a greater number of trips made by vehicle and increased parking demand. A desire to regulate and/or price campus parking to reduce vehicle trips and encourage sustainable transportation can create further parking spillover issues in adjacent residential neighbourhood with limited regulations in-place.  Resulting conflicts include balancing parking demand while protecting neighbourhood parking, challenges such as the trade-off between funding service (i.e., health care, education) and building new parking supplies, and how campus or events sites with pronounced peak demand periods are managing travel demand and minimizing parking impacts.  The challenges will be articulated for the group and a real-world example provided from our experience in parking management, including successful strategies and lessons learned.
---
Suggested for: Municipal |Resort
Seasonal Paid Parking Program Implementation at Town of Sylvan Lake
Ron Lebsack, Town of Sylvan Lake
Carla Marcano, ParkPlus System
The Town of Sylvan Lake is a Canadian tourist resort destination town located at the center of the Calgary-Edmonton Corridor on the south shores of one of Alberta's best recreational lakes.
Sylvan Lake has a population of 14,853 with an annual tourist visitation in excess of 1,000,000 people to approximately 3 km of waterfront, creating a massive influx of summer visitors and a great impact on the community. A Waterfront Commercial District Business Visitation Report identified parking as a key issue of concern for residents and local business and the second highest complaint from visitors. In 2017, a seasonal Paid Parking Program was rolled out, complemented by a Residential Parking Permit System. By implementing these strategies, the municipality sought to improve parking availability within the downtown commercial district, achieve a greater turnover of parking stalls and more foot traffic. Additional revenue was generated to help with the downtown and lakefront park upkeep and maintenance.
This case study style presentation will explore all aspects of the implementation of the new P aid Parking Solution.
---
Afternoon
General Session  
Join Ian Khan in the screening of his documentary "Blockchain City".  Enjoy a beer and some popcorn while he makes an informative and entertaining presentation.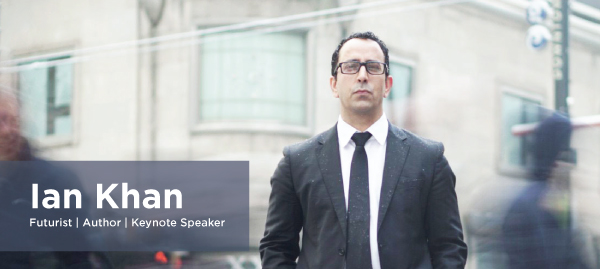 Hype Vs Reality & the Future of Mobility
Ian Khan is a CNN featured Technology Futurist, 3 times TEDx Speaker, Director of highly acclaimed documentary "Blockchain City", Bestselling author of "7 Axioms of Value Creation", and contributor to many publications including McGraw Hill and Forbes.
Chief Futurist at the Futuracy Institute of Thought Leadership, Ian is one of the most widely quoted experts on Blockchain. Ian is  on a mission to "Unlock Human Potential" by helping understand how technology can help us become more Efficient, Happy and more Human.
Ian is an accomplished keynote speaker and has spoken at industry conferences including Microsoft Worldwide Conference, World Government Summit, Money2020, SWIFT and helped hundreds of organizations with their digital transformation journey.
---
MONDAY EVENING
Awards Dinner and Keynote  
Keynote – JON MONTGOMERY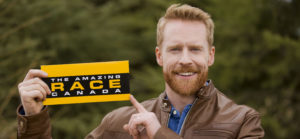 Jon Montgomery became a celebrated Canadian when he defied great odds to win the Gold Medal in Skeleton racing at the Vancouver 2010 Olympics – beating out his closest opponent by 7/100th of a second. Jon celebrated his victory with his famous "beer walk" in Whistler BC – reflecting his zest for life, pride in being Canadian and love for great beer. As a compelling speaker and the engaging host of THE AMAZING RACE CANADA, the Canadian Parking Association is proud to have Jon join us in Victoria to share his stories.
---
Networking Lunch and Round Table Session
Suggested for: All Sectors / Workshop Format
The Mobility Effect – Examining the Impact on each CPA Sector
Jennifer Spear, Unscripted
This session is an extension of the Sunday Round Table discussions where each Sector will be involved in identifying various mobility issues that have a potential to impact their sector.  The group will identify issues that affect specific sectors only, and those that are felt across the board.  Data will be gathered and used in the development of the CPA's strategic action plan that will be current and relevant to its members.
---
Afternoon
Educational Breakout Sessions  
Suggested for: All Sectors | Operations/Mobility
High Performance Parking: Market Transformations, Sustainable Mobility & Leadership
Brandy Burdeniuk, GBCI Canada
Today's parking and transportation leaders recognize the changing nature of the industry, their impact on the environment, and their important role in mitigating climate change.  Making the leap to parking as a high-performance, integrated, energy-efficient tool that produces more mobility using fewer resources is the key business opportunity for next generation parking.  With re-urbanization, connected and autonomous cars, the shared and circular economies, last mile logistics and millennials challenging the market, we know the next 20 years will be radically different from the last 20.  This session will highlight leading solutions and new programs designed to advance and recognize leadership in sustainable mobility through smarter parking structure design and operation, ensuring assets are future-proof and functioning optimally.
Using real stories from Canadian, U.S., and international parking asset owners, this session will discuss how modern parking is evolving to meet new market demands.
---
Suggested for: All Sectors | Building Development
Building Up – Parkade Expansion at Alberta Children's Hospital
Amy Rohof, Read Jones Christoffersen Ltd.
How do you expand a critical parking facility that is in use around the clock? This was the challenge for the project team who delivered two levels of parking expansion on the primary parking facility for a regional pediatric hospital. The team will share lessons learned, focusing on how to overcome design and construction challenges to bring much needed additional capacity while keeping the parkade open and minimizing the impact on operations.
---
Suggested for: All Sectors | Systems Innovation
LPR Technology Transforms the Car Sharing Industry
Nigel Bullers, EasyPark
The EasyPark parking garage located at Pacific Centre Mall is the largest parking lot in Vancouver that currently has LPR technology for a diverse group of user types, with 11 entrances and exits. Based on EasyPark's experience with LPR implementation, this presentation explores the impact of a frictionless parking experience on transient parkers, monthly parkers, and car share users. It also discusses how the LPR technology was used for theft prevention of parking transactions from customers using car share vehicles.
---
Suggested for: All Sectors | Equipment Systems
Automated Parking Systems – More Parking in Less Space
Simon Button, Bunt & Associates
Vehicle parking can be expensive and difficult to provide in dense urban centres with high land values. Several technologies exist to make parkades more space efficient and less expensive to construct. There has been an increased interest in these technologies from land development projects in recent years due to high construction costs and small land parcel size.
Parking system technologies present new opportunities and considerations for land development projects. The presentation will include a review of multiple projects which incorporate parking systems, including automated bicycle storage, vehicle elevators, vehicle turntables, semi-automated parking systems, and fully automated parking systems.
---
Suggested for: Campus/Hospital | Sustainable TDM
Leading the Path to Sustainable Transport: Camosun College's TDM Strategy
Timothy Shah, Watt Consulting Group
Maria Bremner, Camosun College
The Camosun College Transportation Demand Management (TDM) Strategy provides a roadmap for how the College could become a leader in sustainable transportation by 2028.  The Strategy represents a 10-year action plan that builds on a strong TDM foundation created through previous plans with the goal of providing updated student and staff travel characteristics and an improved understanding of the suite of management options available to the College. The primary goal of the Camosun College TDM Strategy is to provide convenient, environmentally responsible and affordable access to both campuses. The TDM Strategy provides a roadmap on how the College can better provide transportation choices and, ultimately, meet its five goals, which include a reduction in parking demand and single occupancy vehicle trips, and improving the quality and diversity of active transportation choices, among others.
---
Suggested for: Campus | Municipal
PANEL: New Concepts in Winnipeg
NOT CONFIRMED YET
Flexible Parking Permits
Cameron Neufeld, University of Manitoba
The concept of flexible parking permits will allow customers to choose set days of the week in which they need access to the parking lot, allowing permits to be sold on the remaining days to another customer, incentivizing people to choose other modes of transportation and maximizing lot capacities.  The challenge:  we are implementing flexible parking in a virtual permit environment.  This presentation will reveal details and goals of the program, including how UofM intents to protect its revenue targets.
By-law Enforcement Technology – Route Optimization and Intuitive Routing
Ryan Arabsky & Aynsley St. Pierre, Winnipeg Parking Authority
The intuitive routing software is a complement to the Winnipeg Parking Authority's existing GPS based vehicle monitoring software and has resulted in increased officer productivity through elimination of duplicate routes and reduction in commuting times between enforcement and complaint areas – with a concurrent reduction in customer wait times for response to complaints. The decrease in mileage driven is also expected to result in slight reductions in wear and tear on WPA vehicles, fuel savings and a subsequent reduction of green house gas emissions.
John Hirsch Place: Winnipeg's First Woonerf
Richard Tebinka, WSP Canada
The results of a project to develop Winnipeg's first woonerf, converting an existing laneway in Winnipeg's historic Exchange District downtown from a "standard" laneway to a multipurpose laneway that provides parking, priority for pedestrians and cyclists, enhanced streetscaping, an innovation drainage system that helps support the landscaping, provision of planter areas that area residents can use for plantings of their choice, provision of artwork recognizing the past story of Browns Creek, which pre-dated the laneway, and the creation of flex space. Under day to day use it accommodates all modes, but is designed, and intended, to allow for temporary closures for use for festivals, street parties, markets, etc.
---