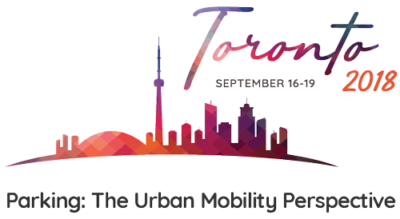 Panel 1 – Autonomous Vehicles: An Update from Banff 2017
---
In this general session, panelists continued the discussion started at the Banff 2017 conference.  Learn how AV's have advanced, what policies and practices should be considered, and take a closer look at how AV's will impact the parking industry.
Moderator: Ralph Bond, Executive Chair, BA Consulting Group
Topics & Panelists:
Discussion on the preparations being undertaken by the City of Toronto to accommodate AV's.
Shagithya Deivendran, Project Lead, Automated Vehicles, City of Toronto
Insight into the potential impacts of  AV's on parking and transportation, with references from his new book
"The End of Driving".
Bern Grush, Principal, Grush Niles Strategic
Critical considerations involved in future proofing new parking facilities.
Chris Davis, Principal, RJC Engineering (Calgary)
Overview of a large scale real estate developer's thoughts about the changing nature of mobility and the impact it will have on transportation
and parking needs.

 
John Filipetti, Vice President, Design & Innovation from Oxford Properties Inc.
---
Breakout Sessions
Curbside Management Strategy – Improving How Curbside Space Is Used
Peter Richards, IBI Group
The City of Toronto has seen and continues to experience significant growth with substantial development adjacent to its right-of-way, resulting in considerable demands on the road network and excessive congestion; especially in the downtown core.  Currently, curbside access is in high demand for cyclists, operators of transit, taxi, motor coach, courier and other deliveries/goods movement vehicles. There is also high demand for parking, TV and film setup, accessible parking permit users, transit stops, Wheel-Trans and local businesses (i.e., hotels, restaurants and retail establishments), other users of private vehicles, and pedestrians. The objective of the Curbside Management Strategy is to develop a plan to better manage this curbside activity and reduce related congestion in the downtown Toronto Study Area. This presentation will outline the process to arrive at a formal Curbside Management Strategy in the City, the considerations taken to make the study as objective and fair as possible, and the resulting policies stemming from the findings.
High-Performance Parking: Parksmart, Market Transformation and Sustainable Mobility in Canada and across the globe.

       
Paul Wessel, US Green Building Council
A century after the emergence of the Model T, parking facility owners, developers, planners, architects, operators, policy makers, and others are moving from a narrow "Where do we put the cars?" approach to an integrated answer to  "How do we move more people, more efficiently, and increase access to their final destination?"  Parksmart is a design, performance, sustainability, and recognition tool optimizing access to offices, airports, universities, venues and other destinations served by parking assets.  Inspired by LEED certification for buildings, parking asset owners, operators, solutions providers, and consultants developed this best practice tool, originally called Green Garage Certification.  It provides a road map for new and existing parking structures to expand mobility, enhance access, reduce energy use and harmful emissions, and strengthen community vitality.  Parksmart is administered by GBCI Canada, a joint venture of the Canada Green Building Council (CaGBC) and Green Business Certification Inc. (GBCI).  GBCI Canada accelerates green building market transformation and impact in Canada through LEED (Canada is the second largest global LEED market), Parksmart, and other certification systems.  This presentation will use Canadian examples from Oxford Properties, Cadillac Fairview, and Impark to illustrate the benefits of Parksmart.  Hear how Parksmart makes your parking work better for people, planet and profit.
Parking Metrics – Lessons Learned from Other Industries
Blake Laufer, MiStall Insight Inc.
We all know that parking is a unique business – but we are not alone in what we do!  Industries such as airlines, hotels, movie theatres, advertisers, and even cruise ships all have similar challenges around managing occupancy, pricing, and overall yield management.  We can learn from them.  This entertaining and informative session examines the similarities between parking and several other industries, and then applies their metrics and solutions back to parking operations.
The Accelerating Rate of Technology and Its Impact on the Parking Industry
Dan Roarty, President & COO, ParkWhiz, Inc.
Billions of dollars are being poured into connected cars, autonomous vehicles and smart cities. With the rapid investment, experts predict more and more connected cars on the road in the coming years, and autonomous vehicles on the road in a decade. As a result, companies are planning for change and trying to imagine what life could be like in ten or more years, complete with hyper-loops, drones and electric vehicle charging stations. At the same time, alternatives to driving are strong – and getting better.
During this presentation, Dan will examine how parking fits into the future of transportation and can empower consumer choice. By considering lessons learned from similar industries, the company will outline a clear path forward focused on investment, collaboration, and innovation.
Adapt or Die: Survival Recipes for the Age of New Mobility –How-to-guide for dealing with unprecedented change.
Paulo Nunes-Ueno, Principal Consultant, Nunes-Ueno Consulting LLC
Paulo Nunes-Ueno is an expert in sustainable transportation and effective urban solutions for transit, mobility and parking. He started his career as a program manager at King County Metro's Commute Trip Reduction Program and then became Director of Transportation and Sustainability for Seattle Children's Hospital.  At Children's Paulo led the development of Seattle Children's Comprehensive Transportation Plan and the associated Seattle Children's Livable Streets Initiative. These ground breaking commitments to smart transportation and community engagement opened the way to double the hospital while at the same time reducing its drive alone rate and saving $25M in parking construction costs at build-out of the masterplan. Nunes-Ueno went on to become Transit and Mobility Division Director at Seattle Department of Transportation where he was responsible for the innovating the city's transit, parking and shared mobility portfolio. He now consults directly with organizations to help them design and implement cutting edge enterprise commute programs.
---
Panel 2 – Parking Structure Innovation
---
Accelerated Building Construction (ABC) for Mixed – Use Parking Structures
Brian J. Hall, Managing Director, Canadian Precast Prestressed Concrete Institute
and Rob Paquette, Stubbe's Precast
Accelerated Building Construction (ABC) requires a paradigm shift in logic regarding project planning and procurement. Precast concrete has been well known for above ground parking structures now using new technologies precast concrete use in below/above grade parking facilities are becoming very popular. Mixed-use projects require integration of multiple use spaces, which often have conflicting design requirements such as a parking facility (unconditioned space) with a residential facility (quiet space), or with retail. ABC does this by incorporating modular and prefab construction methods for design and construction of permanent and/or moveable facilities. These entire systems can be used as comprehensive turnkey project delivery methods which saves significant time and will likely save money over traditional site-built methods. The 'construction' part of the ABC process utilizes prefabricated sections which are manufactured off-site, transported to the project where typically a crane sets these major components quickly, accurately and directly into place. ABC provides a streamlined approach to every project where the advantages of manufacturing improves quality control and saves money for clients who need to maintain strict deadlines. This presentation will highlight many recent (ABC) projects for Mixed – Use Parking Structures and the technology that was used in their construction.
The Role of Automated Parking Systems and Conventional Parking Garages as De-centralized Storage Depots for ACS
Karl Tracksdorf, Transportation Planner, WSP Canada
The growing promise of Autonomous Vehicles (AVs) provides significant opportunities to transform the transportation network and the vehicle storage function that parking has long been synonymous with. Facility owners and fleet managers are likely to face significant challenges in terms of maintaining a profitable business model that offers value add services when vehicles are not in use as well as a high level of dispatch-ability in those locations where AVs are likely to be in high demand. Our presentation will seek to examine the technological and spatial economy challenges associated with storing electric AVs when not in use. The focus will be primarily on how the existing mechanical technologies associated with Automated Parking Systems (APSs) could be successfully transformed to complement the 'on demand' aspect of AVs.
Suicide Prevention Barriers – Integrating Function and Design
Scott Laing, Associate, Read Jones Christoffersen Ltd.
Suicide prevention barriers are sometimes present at a variety of structures that people use every day, including bridges, high rises, parkades, and even inside multi-storey retail spaces.  The purpose of the barriers is to effectively reduce the rate of suicides and suicide attempts at these sites.  In most cases, the barrier designs are stark, often appearing similar to what is typical of institutional settings.  In an attempt to minimize the 'prison-like' appearance often seen at other structures, the owners of the Edmonton City Centre East parking structure decided to pursue a different style of barrier.  The presentation for the Edmonton City Centre East parking structure's suicide prevention barriers will provide an in depth background of suicide issues at the site, present the guidelines and requirements for the creative solutions that were presented to the client for approval, and describe the installation and lessons learned for the two design options that were ultimately constructed in the facility.
---
Breakout Sessions
When sprawl slows to a crawl, parking matters more than ever.

 
Hamish Campbell, Project Lead, Parking Master Plan, City of Mississauga
Parking is a tremendous resource in Mississauga. Fifteen per cent of the City's land mass is surface parking, and that doesn't include roads and driveways. With the City now growing up, instead of out, Mississauga is thinking differently about how it will provide and manage parking in future.  To help shape the future of city-wide parking, Mississauga is undertaking the development of a Parking Master Plan and Implementation Strategy that links policies and procedures for parking provision to practices for operating and managing on-street and off-street parking facilities.
Cyber Security and Parking: What you need to know
Chelsea Webster, Marketing Specialist, ParkPlus System
Cyber security: protecting computer systems from theft, damage, disruption or misdirection of hardware, software, and information. It's a mouthful, and it's intimidating for many. This presentation breaks down what types of threats currently exist, gives examples of how damaging an intrusion can be, and then reviews all the potential impacts to the parking industry. Some key parking pain points include vehicle theft, app and website hacking, cryptocurrency use, pay machine tampering, and data and personal information breaches. Video clips to demonstrate some of the most threatening breaches are used. Tips are given around security measures to implement in your parking operations, both in-lot and for software or web-based platforms. The presentation wraps up with an interactive threat assessment activity.
Driving Parking Supply Down – the Key to Successful Urban Development
Ralph Bond, Executive Chairman, BA Consulting Group
As cities continue to grow and intensify in terms of density, maintaining the right balance between parking demand and supply is critical to the successful development of urban core areas and nodes.  Sometimes a shortage of parking is a good thing!  Ralph will illustrate the challenges and opportunities associated with strategic parking supply management by referring to examples including the ongoing evolution of the Downtown Mississauga from a suburban town centre into a mixed use downtown core area and emerging parking patterns at the Vaughan Metropolitan Centre.   
City of Lethbridge: Parking Meter Replacement Project
Ahmed Ali, Manager, Transportation Engineering
Phillip Berg, Parking & Traffic Technician, City of Lethbridge
There are over 1,526 metered parking stalls and approximately 396 unmetered/time restricted parking stalls in Downtown Lethbridge. Currently most of parking meters have reached or exceeded their lifespan and maintenance of the current parking meters continues to be a growing challenge. An upgrade of the system is currently underway, fulfilling the changing needs of the users as well as to improve the efficiency of Parking Operations. Consultants were retained to undertake a technical study and provide evaluation and recommendations with regards to the parking technology for Lethbridge. A number of internal Technical Committee meetings, external stake holder meetings, and two public engagement sessions were undertaken as part of this project. Based on the results of the technical study and evaluation, and stakeholder and public inputs, a hybrid option was recommended and installation is currently in progress. Updates to payment systems are also planned to be implemented with this change.  This presentation will provide an overview of the process with particular emphasis on technology options and public and stakeholder engagement.
Smart Parkades: Leveraging Technology, Analytics and Marketing to Enhance the Passenger Experience
Jennifer Mucha, Coordinator, Business Development, Greater Toronto Airport Authority
Dragana Popara, Parking Program Coordinator, Greater Toronto Airport Authority
Toronto Pearson continues its journey towards becoming a mega hub airport, and the best airport in the world. Transportation access is increasingly viewed as one of the primary enablers to fulfill this vision.  Rapid growth has resulted in strong demand for a variety of mobility solutions at Toronto Pearson, including parking, as we continue to shift towards user-centred and technology-focused (or "smart") parkades.  We have built improved engagement with our passengers and continue to build programs around their needs whilst driving conversions to our e-commerce platform and encouraging passengers to communicate with us ahead of time to enable the creation of more tailored program opportunities for cross-selling as we strive to deliver added value.  Through our systems and business integration we will take you on a journey to understand how we are connecting with customers and leveraging technology and analytics in order to create programs and campaigns to communicate and enhance the passenger experience, improve airport service quality and drive revenue.
Smart Parking – Value Chain Optimization for Increased Revenue
Bill Dupley, Digital Strategist, FoxNet Solutions
Smart Parking technology is demonstrating the ability to increase revenue and reduce operating costs, but we have only begun to scratch the surface on what's possible. This session will explore how smart parking solutions are influencing each step in the Smart Parking value chain and will illustrate how organizations are exploiting this new technology to understand usage patterns, increase revenue, and uncover efficiencies. This session will discuss current case studies as well as provide new use cases which utilize the data available to allow organizations to do more with less.
Become a member.

Connect with dedicated parking and mobility professionals and access technical information specific to these industries.