QUALIFICATIONS
This award spotlights outstanding marketing, promotional, public relations, and communications-outreach efforts in the parking industry that provide a high level of information to improve the image of the industry to the public.
Have you:
Created and launched a successful marketing or communications campaign which had a significant and measureable impact on customers and/or revenues?
Launched a campaign to encourage people to ride share, bike share, or other transportation bundling with parking?
Instituted a parking safety program?
Helped consumers think about the parking process in a whole new way?
Undertaken an effort to show that parking companies can make a difference in your community?
---
NOMINATION CRITERIA
Eligibility                               
Open to CPA member organizations from all sectors, which have a formal communications, public relations, or marketing program that educates and informs. If you can answer yes to these questions, you should consider entering:
Is your organization a parking authority, city, company or institution with a parking department, a parking owner, or a service or product provider serving the parking and/or transportation industry?
Did your organization have a marketing, public relations, or communications program or campaign that promoted parking, a parking product or service, or a new parking program that achieved measurable and favorable outcomes?
Did that program or campaign help foster understanding of the importance of parking, knowledge about trends in parking, or awareness of parking trends or best practices?
Did the program or campaign take place, at least in part, during 2016/17?
Entry Fee: $100 per entry                                                                               
Submission Requirements:
Executive Summary (300 words)
Program Description (700 words)
Innovation/Creativity (25%)
Note the various elements that make this program or operation creative. Explain how this program/operation is original and unique.
Improvements and Measured Benefits (50%)
Improvements (25%):  explain how the program increased product awareness, increased market share, increased revenues, increased efficiency, improved productivity, relieved congestion, or solved a problem.
Measured Benefits (25%):  describe the success of the program and what standard of measurement was used to determine success (efficiency, safety, savings of time or money, etc.)
Adaptability (25%)
Describe how this program concept can be used by other agencies. Explain the ease by which others can adapt the program/operation to their use.
---
SUBMISSION INSTRUCTIONS
This form cannot be saved. All supporting documentation must be uploaded with this submission. Please read the Nomination Criteria and provide all accompanying documentation in pdf format.
---
---
2017 RECIPIENTS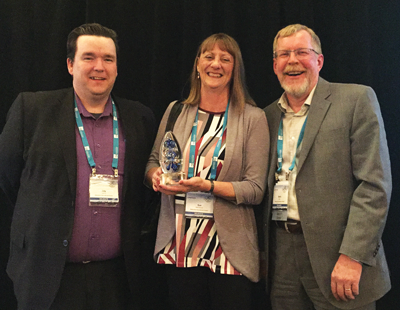 jetSet Parking
Edmonton International Airport