The formation of the Canadian Parking Association more than 25 years ago lead to the realization that the parking industry is rich with professionals from many disciplines.
Contributions to the success of the industry range from the tireless dedication of volunteers to the creation of innovative systems and technology development. Many members of the parking industry have been acknowledged by Principals of Read Jones Christoffersen through two awards:
The Ted Seeberg Memorial Award for Outstanding Contribution to the Canadian Parking Industry
The Ed Keate Award for Outstanding Contribution to Advancement of Knowledge in the Parking Industry
---
SUBMITTING YOUR NOMINATION
Eligibility
Nominations can only be submitted by members of the Canadian Parking Association (CPA). If you are not a member, you can join the CPA online at canadianparking.ca/en/members/, by phone: 613-727-0700 or e-mail: info@canadianparking.ca or approach a member to suggest a nomination. Recipients need not be members of the Canadian Parking Association.
Presentation of Awards
Recipients will be presented with their award at the 2018 Annual Conference and Trade Show Awards. 
Closing Date for Submissions
The closing date for the Ed Keate and Ted Seeberg Awards nominations will be August 31, 2018.
Form for submitting nominations:
 
---
---
Ted Seeberg Award

Ted Seeberg headed RJC's Parking Division from 1964 until his untimely death in December of 1985. He was a charter member of the Parking Consultant's Council and a member of both the NPA and the then IMPC (now known as IPI). Mr. Seeberg was present at the founding convention of the CPA and worked closely with founding officers to build and expand our Canadian association.
---
Ted Seeberg Award Winner Recipients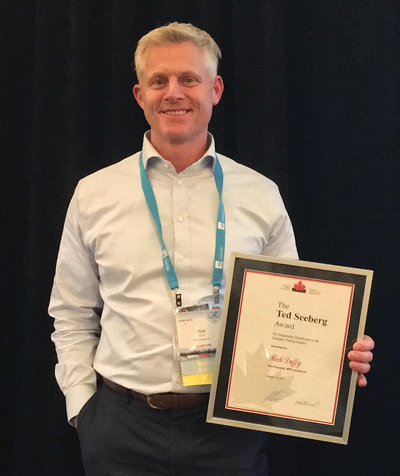 Rick Duffy, WPS Canada Inc.
As immediate Past President, Rick has served the Canadian parking industry in many ways including service on the CPA Board for eleven years as President, Vice President, Treasurer and Secretary, after several years as a Director.  Rick represented the Supplier and Vendor sector, providing insight into exhibiting suppliers' needs and concerns, as well as contributing to the development and understanding of industry trends regarding parking access and revenue control (PARCS) technology.
He has facilitated discussion and advanced technical knowledge in his capacity of Chair of the Toronto Chapter by moderating panels and making presentations at many conferences.
With tongue in cheek, it has been noted that when Rick first joined the board he did not have any grey hair!
Scott Wallace, Read Jones Christoffersen Ltd.
Janice Legace, Parking Manager, City of Fredericton
Janice has been in the position of Parking Manager for the City of Fredericton for over 15 Years and has been an active member of CPA for the same amount of time. During her years as a member of the CPA, she sat on the Board of Directors in early 2000 representing the Atlantic Provinces and Municipality sector for a few years. Recently, Janice rejoined the Board and is currently holding the Executive position of Secretary to the Board.
Over the years, Janice has been instrumental in keeping the geographically challenged Atlantic region as a cohesive group. She has been involved with assisting the CPA to organize the Saint John Conference in 1998, the Charlottetown Conference in 2005 and being instrumental in organizing and chairing several CPA Atlantic Chapter events and recruiting new members.
Janice actively participates in much of the networking by engaging discussion, asking the tough questions and offering advice and perspective from her experiences working in parking, sometimes taking the opposing positions on hot topics to keep the discussions informative and fun. Janice's evolvement in parking goes without notice and for these reasons, is a very worthy recipient of the Ted Seeberg Award.
"I want to let everyone know how very delighted I was to receive the2015 Ted Seeberg Award.  It is quite an honour because it comes from those that matter— those that know what it means to be a Parking Professional.  We all contribute in our own way to the parking industry.  Here's to all of you for all you do.   You are all award winners in my book."
Lorne Persiko
From behind the scenes, Lorne Persiko has influenced the parking industry, not only by his own contributions but also by how he influences others. He is a strategic thinker, and an innovator, but more than that, he's a catalyst. Not shy about speaking his mind, Lorne stimulates discussion and thought beyond our Canadian context through presentations at places like Atlantic City and Chicago, and at the World Parking Symposium in various countries.
But it's not just about ideas and talk, Lorne has been a tireless contributor who simply gets things done.  Congratulations Lorne, and thank you for your contribution to the Parking Industry, in Canada and beyond.
John Lovell
John Lovell studied at the University of Toronto, Trinity College and McGill University. He has worked in the Parking Industry for over 35 years in various capacities. He has spoken at seminars and conferences over the years and served on many Boards.
Starting his parking career as a sales representative with Domtrec Limited, he quickly moved up the ladder to the General Sales Manager position in 1982 – a position he held until 1995.
Joining Ascom Canada as National Sales Manager in 1995 he once again climbed the corporate ladder to his current position as Managing Director and CEO of Zeag Canada Limited.
Over the years he has been a familiar face at all Canadian Parking Association conferences and trade shows and very supportive of the CPA and Canadian Parking Foundation. He currently is a director on the Foundation Board.
Among many other significant accomplishments, he was instrumental in implementing the first "Credit Card in – Credit Card out" "real time" system in North America and developing the system that is known and commonly used now throughout the world.
John Lovell has been a major contributor in this industry for over 35 years and is clearly worthy of receiving the Ted Seeberg Award.
Gwyn Thomas  
Gwyn worked in various capacities for the former City of Etobicoke for over 20 years dealing with all aspects of transportation and parking. He then joined the Toronto Parking Authority in 1998 when the former City of Toronto was amalgamated with its surrounding boroughs.
At the time the Toronto Parking Authority was assuming control over the on-street parking in Toronto, Gwyn commenced 14 years as Manager of On-Street Parking, spearheading and implementing initiatives which increased revenues from $8 to $30 million. He further introduced initiatives such as swipe-and-go payment at all pay-on-foot off-street garages in the most recent years. His role at the TPA also grew, first as Vice President of Operations, and in 2007 becoming the President of the Toronto Parking Association.
Gwyn's involvement with the Canadian Parking Association dates back to 2001 when he joined the Board of Directors, where he served as the Municipal representative and as Director for several years, sat as Treasurer and Vice President and then as President. Most recently, Gwyn returned to the Board in an interim role as Vice President and to a second term as President. During his tenure, he guided the Canadian Parking Association through the development of many of the current programs and has ensured the CPA's future is solid.
With over 35 years in the parking industry, Gwyn will retire from the Toronto Parking Authority and the CPA Board of Directors in 2012. His service to the industry will be evident for years to come.
Norma Carswell
The Ted Seeberg Award was presented to Norma Carswell for her commitment and outstanding contribution to the parking industry that goes beyond her organization. In  1988 Norma Carswell began her career in the parking industry, the department grew and became increasingly complex.  Norma embraced new technology and led her department to become pioneers in many new areas.  She has worked tirelessly to support the CPA and encourage professionalism in the industry.
Carole Whitehorne
Carole Whitehorne is the Executive Director of the CPA.  Carole would tell you that the strength of the CPA is due to the work of many people, and she's right.  But she played a huge part in the CPA's success.  The Canadian Parking Association is a strong, vibrant and above all financially strong organization that brings tremendous benefit to its members.
Carole's guidance and fiscal management were major factors that helped the CPA to become as strong finanicially as it is today.  Carole's vibrant and forceful personality has influenced the CPA's growth and success.  It has been said that "she knows when to swing a big stick and when not to".
---
Ed Keate Award

Ed Keate was a founding member of the Canadian Parking Association. He was Manager of the Vancouver Downtown Parking Corporation but his family background in the newspaper business rubbed off on him. He was a "scribe", fascinated with the written word. He started the Parker as a means to pass on knowledge.
---
Ed Keate Award Winner Recipients
Dave Hill, Clayton Hill & Associates
Bern Grush, PaybySky
Bern Grush was nominated for his innovative work in the parking industry and markets related to autonomous digital parking credentials. He is an active and involved stakeholder who, though cutting edge technology is looking to bring advancements to the parking industry. Bern regularly speaks at industry events on parking technological advances, sustainable transportation, GPS and financial systems, etc. He has been an active participant in CPA, volunteering his time to prepare numerous articles for the Parker:
A tale of too many cities: downtown merchants demand free parking
Smart attrition: As the parking meter follows the pay phone
Solving difficult parking problems with a self-paying meter
Parking Management
Legacy of two presidents
The future of wireless parking
Bern is a passionate advocate for the future technology changes that will impact the parking industry and helps stakeholders understand how technology is leading the industry to new levels. He is writing a book, The End of Driving (http://endofdriving.org/about/) that will soon be released challenging current thoughts and promoting forward thinking on the future of transportation in our urban centres. Knowledge transfer and exchange in the parking industry includes technology and its impacts – Bern is an individual who deserves to be recognized for his multi-disciplinary outreach and engagement of stakeholders across the country for his efforts to build capacity for technology in parking.
Bern's achievements are outstanding as he is willing to share his knowledge and expertise with a wide variety of stakeholders. Capacity building, knowledge exchange and increased awareness brings about change, and Bern has made an effort to speak at most transportation-related conferences, post information to blogs and websites and generally contributes to the parking industry, as well as the transportation sector in general. He is a visionary who contributes to the advancement of knowledge in the parking industry.
"I want to thank the Canadian Parking Foundation for accepting my nomination and for awarding the 2015 Ed Keate Award to me. It means a tremendous amount to be recognized like this for my passion for parking technology, parking pricing and parking reform. Since I know there are so many hard-working and passionate people in our industry, I am especially touched to have been selected. Thank You."
Ted Stone
Ted Stone is a Principal in Read Jones Christoffersen Ltd., Consulting Engineers (RJC). Ted's career has been dedicated to the knowledge and advancement of this industry. He has helped the parking industry to benefit from his 46 years of experience, through drafting to site inspection to leading major project teams to advancing knowledge in our industry.
In the 1980s many of Canada's parking structures started to suffer from corrosion caused by de-icer salts on the roads. Within RJC, Ted was the visionary leader in advancing evaluation and repair methods.
But this award is for much more than that. This award recognizes that many of the CPA's members have benefited directly and indirectly from Ted's 46 years of experience.
Many of you would know about Ted's contributions at the CPA. Ted organized Edmonton's first CPA convention in 1992 and has also contributed to industry knowledge through the many seminars he has presented at the CPA conferences.
Ted was a major contributor to the first edition of the Canadian Parking Associations' Maintenance Manual (approximately 1986), and he was the editor and a major contributor to the second edition (2004) of the Maintenance Manual – no small undertaking. "Someone else can do the next edition," says Ted.
He has made significant contributions as a member or chair of several industry committees including ACI (American Concrete Institute), ICRI (International of Concrete Repair Institute), and BOMA (Building Owners and Managers Association), and has given educational seminars at their conferences and conventions.
Stepping further than his consultant role, Ted has helped owners and other clients, acting as a mentor who truly wants to pass on knowledge and help them to understand issues and do better in their own careers.
All of these things reflect Ted's inquisitiveness and his passion for sharing knowledge with others.
In recognition of Ted's legacy of shared knowledge within our industry, Ted is a truly worthy recipient of this award.
Donald Shoup
The Ed Keate Award was presented to Donald Shoup for his outstanding contributions to the advancement and transference of knowledge to the parking industry in Canada and Internationally.
Donald's insightful and thoughtful views of the parking industry.  His research focused on how parking policies affect cities, the economy and the environment. His book The High Cost of Free Parking has lead a growing number of cities to charge fair market prices for parking and to use the revenue to finance added public services in the metered districts.  The Ed Keate Award was presented to Donald Shoup for his outstanding contributions to the advancement and transference of knowledge to the parking industry in Canada and Internationally.
Ralph Bond  
Ralph Bond is the past president of the Canadian Parking Association and a recipient of the Association's Ted Seeberg award for outstanding contributuion to the Canadian Parking Industry.  He is a board member for the Canadian Parking Symposium with an international focus.  He is also a board member and the treasurer for Canada's Transportation Demand Management organization, the Association for Commuter Transportation, Canada (ACT Canada).
Ralph is the first person to be awarded both the Ed Keate award and the Ted Seeberg award.